Read the full post on http://www.ivanmazour.com/delete-unexceptional-people-apply-jobs/
'Delete' - How unexceptional people apply for jobs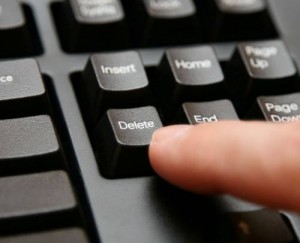 We're in the middle of another hiring phase at Ometria, doubling from a core team of 8 to 16 within just a few months, and that means I'm placing a lot of ads and looking at a lot of inbound applications. Every time I do this, I'm struck by quite how bad most people are at applying for a job, and quite how easy it is to avoid this.
One recent, important, role within our business is a paid internship for someone who will be assisting with research related to the product, data crunching related to our digital marketing, and customer interaction to handle any incoming requests. The role is junior, but it is broad, interesting and provides both a lot of valuable experience and the opportunity to work directly with almost every member of the team.
We've had a great response to the job ad on Enternships, with hundreds of people applying, from people who are only graduating next year, to people who have already been in work for a decade. The ad specifies a few things very clearly. First, an explanation that we require people who are ready to start immediately, and people who have ecommerce experience, with a request to provide a response related to these points in the application. Second, a simple question, which we ask all applicants, and which underlies our entire hiring culture. The question is "What makes you exceptional?"
Nine out of ten applicants copy and paste something generic into the answer to this last question. "I am well traveled." " I am proficient with tools such as Excel." A 962 word answer where the word OMETRIA is spelled in capitals, like that, and very clearly 'find and replaced', and the word exceptional doesn't appear at all. All of these are genuine answers that have been submitted for this question by various people – people who got the 'delete' button.
So 100 or so rejections later, we have a shortlist of people who have at least been willing to read the job advert, and respond to the things that matter. A favourite answer was from a girl who talked about resilience making her different, her exceptional time management skills, and specific relevant experience in ecommerce making her perfect for the role. An answer that it was a pleasure to read, and so clearly distinct from the others that there was no doubt about clicking 'shortlist'.
Next comes the Cover Letter. Assuming the answer to the filter question is vaguely interesting, it is clear that I will go on to open both the CV and the Cover Letter. At this stage, it all starts going wrong again, since most cover letters will generically copy and paste the company name in, and will have no mention of the relevant skills or aspects of the job. A smart cover letter will be based on a generic one, but will weave in why the candidate is good for the role, and what exactly about it they are excited about it. "I have the right qualifications for this role… and have extensive experience in this field", with no further relevant details, is just not going to cut it.
If the answer to the filter question is good, and the cover letter is relevant, then the CV gets some thorough analysis. They've taken the time to specifically focus on this application and it's only fair to take time to specifically analyse it. People make one major mistake with the CV. They don't put a photo. This is such an obvious opportunity to create an emotional connection with whoever is reading the CV, and most people miss it out. The right photo, demonstrating professionalism, will really ingrain you in the mind of the decision maker, and most people just don't do this. Apart from that, CVs are what they are – if you've had some great previous roles, then they will be impressive. If not, then the other aspects of the application are going to need to be really strong, and they are more important in any case.
Our hiring process is long, even for an internship position. We're a family that's very hard to get into – no one gets to skip it. So the first stage is an interview. I personally write to the candidate to thank them for the application, tell them that they've stood out, and invite them to a first interview. I also lay out the next steps to ensure they are aware. Even at this very simple step, people get it wrong. One person, who was absolutely perfect in the application, responded with a single sentence "I am available for the interview on Wednesday, but am not available on Thursday for the next step you describe." No followup. No question regarding whether it would be possible to reschedule. This one really stumped me. Clear effort put into making the application, and no effort put into trying to persuade us to move the interview times around. Is this someone who has issues with communicating, or someone who just doesn't care about joining our company? Either way, such a shame..
Then comes the interview. One obvious point always jumps out at me – the good candidates will always have lots of questions. They have options, and that means they are the ones making a tough decision. They want to know absolutely everything about the role, absolutely everything about future opportunities. And on the other hand, so many people just have a generic question, because they know they need to ask one. A great candidate will carefully ask questions throughout the process, taking care not to take over the interview, but demonstrating that they really do care about taking the right role.
We had one candidate do something exceptional after the interview. He sent a hand-written thank you note. Absolutely perfect – no one else did it, and it really stood out. It took him a minute of time to do it, but the effect was significant. It set him apart, and he was immediately invited back for a test day.
At the test day, the second stage of our interview process, we screen for two things. The first is overall output, productivity, and attitude based on the APM Principle. The point of this principle isn't how much you can do – most people totally misunderstand that blog post. The point of it is to reframe what you believe you can do, and realise that the bar should be set an order of magnitude higher. The second is cultural fit. The Sunday test. Is this someone that we would want to spend a Sunday in the office with. Do they understand the reality of being in a startup, and is that something they relish.
It's amazing how many candidates come in for this day, and over eight hours produce a document that's one and a half pages long. Our first hire was through the same channel, for a similar research intern position. His bar is set at what is literally a dissertation – a fifteen page document with data, charts, and a detailed analysis – all within one day. He now pretty much runs the company.. So people who spend time on getting past all of the earlier stages end up crashing out. It becomes clear that the effort didn't come from something intrinsic. They aren't genuine overachievers – they just put extra effort into the earlier steps because they were short and it was simple to do so. They wouldn't hack three years' worth of 14 hour days doing maths at Cambridge, and they definitely wouldn't hack ten years' worth of 16 hour days building a SaaS company.
All those people ended up not being exceptional. So that's how not to do it. And so we are left with one candidate. She answered the question well. She added a relevant paragraph to the Cover Letter. She had a photo. She produced four times more than the other candidates during the test day, and it was well planned and well executed. Only one stage remains. The Gauntlet. Six individual interviews with the core founding team, one after another, no breaks, and anyone can veto. There's no tricks for getting through that one. Either she's an Ometrian, or we've got to start again.